FOR THOSE I LOVE ACCLAIM
Feature Album
Double J
Album Of The Week
FBi Radio
"A runaway success"
The New York Times
"Hauntingly beautiful and mesmerisingly honest, For Those I Love
has delivered a debut album that is unlike anything you've ever heard"
Rolling Stone Australia
"An exorcism of grief on the dancefloor"
The Guardian (Album Of The Week)
✭✭✭✭
"An immaculate debut"
NME
✭✭✭✭✭
"An extraordinary debut"
Evening Standard
★★★★★
"Just compelling, raw sincerity"
The Irish Times
★★★★★
"As much a piece of history as it is a work of art"
The Independent
★★★★★
#2 Official Irish Albums Chart
For Those I Love, the brainchild of Dublin producer and songwriter David Balfe shares the remix of his track 'You Stayed / To Live (Ela Minus Remix)'. LISTEN HERE.

Having released his debut album For Those I Love to significant public and critical acclaim earlier this year, the album sits at #1 release of 2021 on review aggregator Album Of The Year and is the 3rd Best Album Of 2021 on Metacritic. The record was celebrated as BBC 6 Music's 'Album Of The Day' and has already appeared in a number of mid-year best-of lists at the likes of The Sunday Times, Pitchfork, NME, CLASH, and more. He has also recently been nominated for a prestigious Ivor Novello Award in the 'Best Contemporary Song' category for the track 'Top Scheme'.

Following previous remixes by Overmono and Finn, For Those I Love shares a remix from Ela Minus whose critically-acclaimed debut album, Acts Of Rebellion, landed on Domino in 2020. The Columbian-born and Brooklyn-based artist adds a newfound propulsion to 'You Stayed / To Live'. Percussive and resonant, her remix forges an early morning club imprint upon a track that lyrically evokes early memories and that emotes and exhales on past experience still clear and present. WATCH VISUALISER FOR 'YOU STAYED / TO LIVE (ELA MINUS REMIX)' HERE
Last month, For Those I Love also shared a football-themed video for 'To Have You' that premiered with The FADER. It successfully and poignantly captures the real-life community and sense of life that exists around a football club and in this case Shelbourne FC, a League Of Ireland club that David and friends passionately support to this day, with Shels – as they're affectionately known by fans – even making an appearance on the cover of the album. On that cover, a fan holds a flare aloft from the terraces, set alight at 27 minutes to represent the 27 years of age at which they lost Shelbourne fan, and David's best friend, Paul Curran.

The club's shared stadium, Tolka Park, where David and his friends would go on to scatter Paul's ashes, is currently under threat. You can read more about the Save Tolka Park campaign here.

'You Stayed / To Live (Ela Minus Remix)' is out now,
buy/stream it here.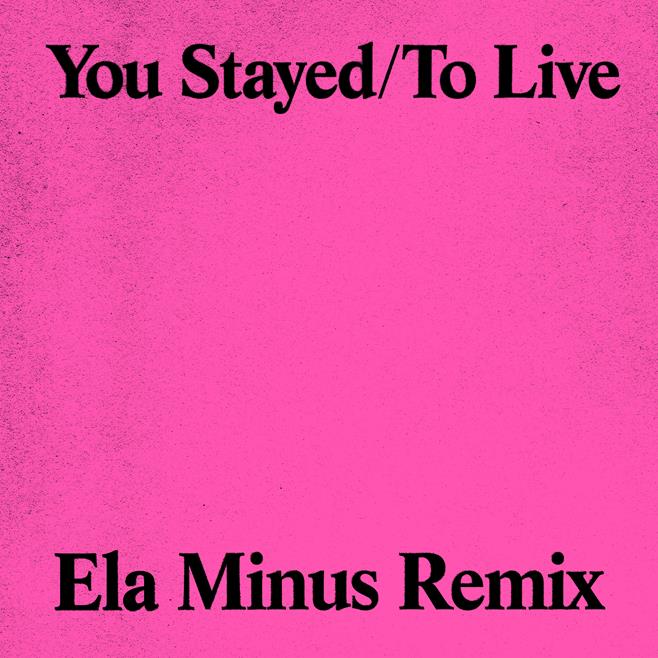 For Those I Love is out now, buy/stream it here.
Stay connected with For Those I Love:
Website | Instagram | Bandcamp
ABOUT FOR THOSE I LOVE
The project of David Balfe, the producer vocalist first began work on For Those I Love as a chance to write frankly about the struggles he and his friends faced while growing up in north Dublin. Anecdotally and otherwise, For Those I Love documents the harsh realities of daily life up against it and holds a mirror up to the clear disparity between a working-class upbringing and the lack of opportunity that remains to this day. At its core, the self-titled album pays tribute to Dave's best friend and former bandmate, Paul Curran, who passed away in 2018. Following Paul's tragic death, Dave locked himself away in his home studio for months, ultimately recording over 76 songs that would eventually be condensed down to form the basis of his debut album. The result is an incredibly beautiful, raw and uncompromising 9-track project addressing grief and catharsis, an important record that could only emerge from an entirely honest place. 
Introduced to the world last year through the hard-nosed, beautiful eulogy of debut single 'I Have A Love' and the socio-political ruminations of its follow-up 'Top Scheme', early 2021 he announced the details of his much-anticipated debut album via September Recordings alongside a third single, the electric 'Birthday / The Pain', paired to a remarkable video forged through a process called photogrammetry. Alongside significant breakthroughs at press and radio over the last year, David performed live for the first time ever under the For Those I Love moniker in November on Later… with Jools Holland, delivering a performance ingrained with such emotional weight that 'For Those I Love' was to go on to trend on Twitter soon afterwards.